Online Workshop NOv. 18, 7PM est
Christmas Decor Book Online Class
Join me for an online class on how to create the trendy Christmas Decor Book. Choose from just the class or add supplies. Click Here for more information.
Welcome to Pickin' Boots Vintage Fort Myers.  We have been in business here in Fort Myers FL since 2012. Stop by and check us out.  We are a 5000 sq. ft. multi vendor shop with seasonal outdoor vintage markets. We offer workshops and classes through out the year.  We are a Dixie Belle premier retailer, Annie Sloan Stockist, Fusion Paint Retailer, Pentart, approved IOD - Iron Orchid Designs Stockist and we carry Milk Paint. 
NEW IOD Christmas Holiday release: Sept 5 @ 12 EST. (they wont show on here til then)
Looking to Sell?
Looking to sell your vintage and antique furniture to PB? Please post pictures and prices for the shop and vendors to view. Please visit our Facebook group to post pictures and prices. CLICK HERE
What We Buy
Vintage Furniture
Antique Furniture
Mirrors
Primitives
Garden
Chairs
Benches
Lightning
Linens
Doors/Doorknobs
Silverware
Typewriters
Frames
What Don't We Buy
China
Glassware
Pressed Wood Furniture
Cookware unless cast iron
Collectables/KnickKnacks/Figurines
Furnirture that is not Vintage (20 YRS Old or Antique 100 YRS Old)
Items that need repair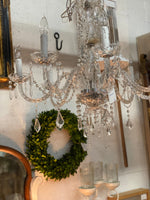 What's at Pickin' Boots?
Wondering what we have in the shop?  Join our FaceBook group to see a selection of our inventory. Be the first to see what is being added to the shop!
Pickin' Boots Inventory